Strategies for Revitalizing a Broken Team Culture and Achieving Vision Success
Introduction
I am a firm believer that for leaders, having an inspiring vision and building the right culture around your goals for your squad is the key to achieving success.
When the target is not clear, it gets very difficult for the ones you lead to maintain focus, work with efficacy, and drive any meaningful change towards your objectives. Today we are looking into what achieving vision success looks like – so read on for a bonus story about Shaka Zulu towards the end.
Organizational Vision Statement
If you ever find yourself in management, you will quickly learn that setting a clear vision and fostering a positive culture within your team are essential skills for achieving organizational success. A vision is a statement of an organization's overarching goals and aspirations, often tied to a specific time frame. It is a way to communicate to the team what the organization wants to achieve, and what kind of future it is working towards. In an organizational scenario, a vision serves as a guiding principle for decision-making, and ensures that everyone on the team is working towards the same end goal.
Organizational culture: What is it?
Culture, on the other hand, refers to the shared values, beliefs, and behaviors that define a team or organization. Culture is often described as the personality of an organization, and it shapes how people within the organization interact, work, and make decisions. In an organizational scenario, culture is the foundation on which the team's actions, decisions and communication are based.
Who is responsible for setting organizational vision and team culture?
The responsibility of setting an organizational vision and team culture typically falls on the leadership of an organization, including the CEO, top management, and the Board of Directors. They are the ones who are responsible for setting the overall direction and strategy of the organization and creating a shared vision and values that guide the actions of everyone within the organization.
However, do note that the responsibility for creating and maintaining a positive culture and ensuring that the vision is communicated and implemented is not only on the top leadership, but also on every member of the organization. Every team leader and team member has a role in shaping the culture and working towards achieving the vision.

– Okinyo Mark
It is important for the leadership to clearly communicate the vision and culture, provide the necessary resources and support, and lead by example in order to ensure that the vision and culture are embraced and implemented throughout the organization. Additionally, leaders should encourage employee engagement and participation in shaping the vision and culture, and regularly gather feedback to evaluate the effectiveness of the vision and culture and make necessary adjustments.
Importance of having a clear vision and positive team culture
Having a clear vision and a positive culture within the team can significantly impact the team's productivity and motivation. A clear vision provides direction and focus for the team, while a positive culture promotes employee engagement, satisfaction, and retention.
According to a survey by Gallup, only 29% of employees strongly agree that they know what their organization stands for and what makes it different from its competitors. This highlights the importance of having a clear vision in order to align the team's goals and objectives with the overall mission of the organization. (Source: Gallup, "State of the American Workplace" 2017)

A Deloitte Human Capital Trends survey found that culture and engagement are the top human capital priorities for organizations globally. (Source: Deloitte, "Global Human Capital Trends" 2020) A positive culture can improve employee engagement, satisfaction, and retention. The Society for Human Resource Management also found that organizations with a positive culture had lower turnover rates and higher productivity levels. (Source: SHRM, "The Business Impact of Culture" 2016)
How to create and transmit organizational vision:
1. Understand the organization's mission and goals
Before setting a vision for your team, it is essential to understand the mission and goals of the organization. This will ensure that your team's vision is aligned with the overall goals of the organization.
2. Involve the team in the vision-setting process
By involving the team in the vision-setting process, you can ensure that everyone has a clear understanding of the vision and is committed to achieving it.
3. Use performance measuring frameworks like SMART goals
SMART goals are objectives that are specific, measurable, achievable, relevant, and time-bound. Using this framework can help to create clear and actionable goals for your teams so that they can measure their own progress and understand how they contribute to the bigger picture.
4. Communicate the vision clearly
Once the vision is set, it is important to communicate it clearly to the team. This will ensure that everyone understands the vision and is working towards it.
Examples of great vision statements:
"Our vision is to be Earth's most customer-centric company, where customers can find and discover anything they might want to buy online."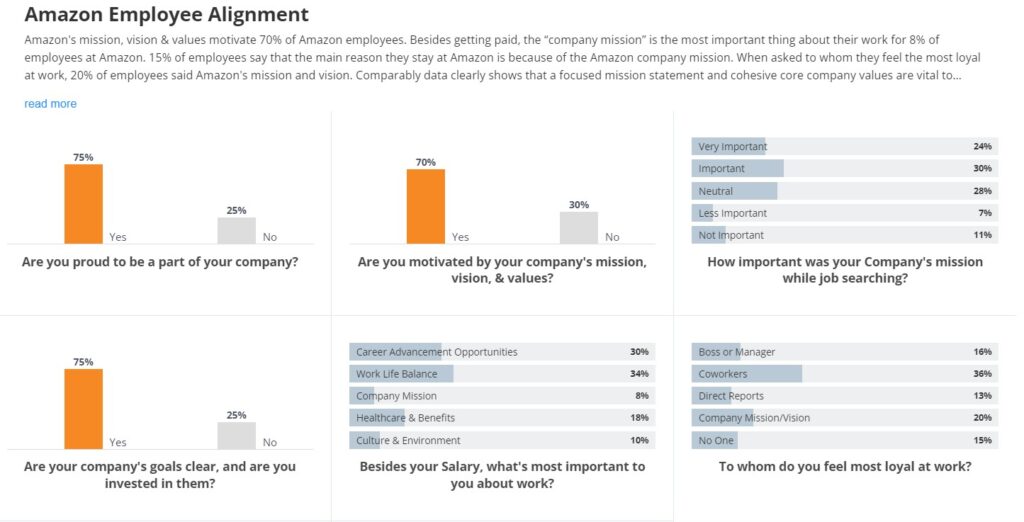 "To organize the world's information and make it universally accessible and useful."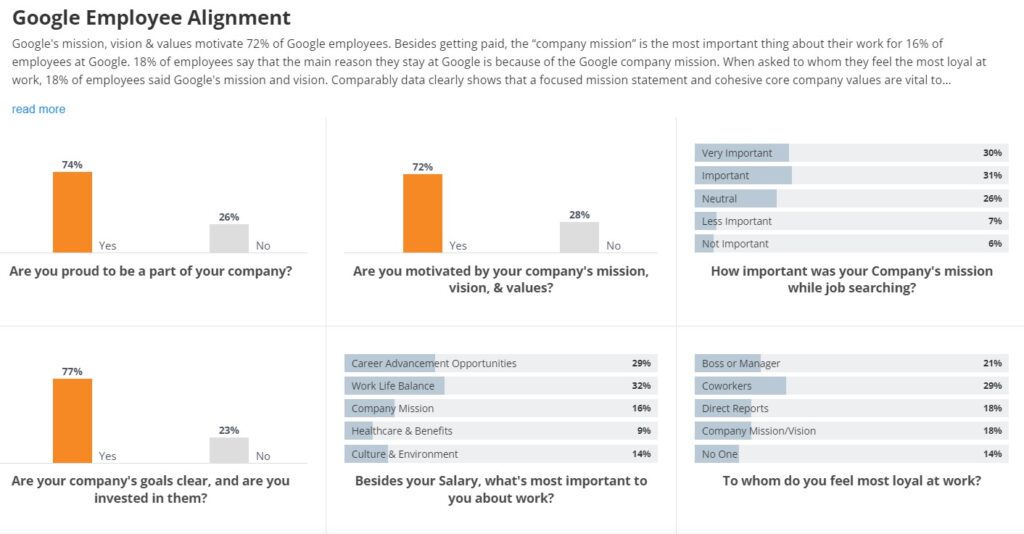 "To bring inspiration and innovation to every athlete* in the world."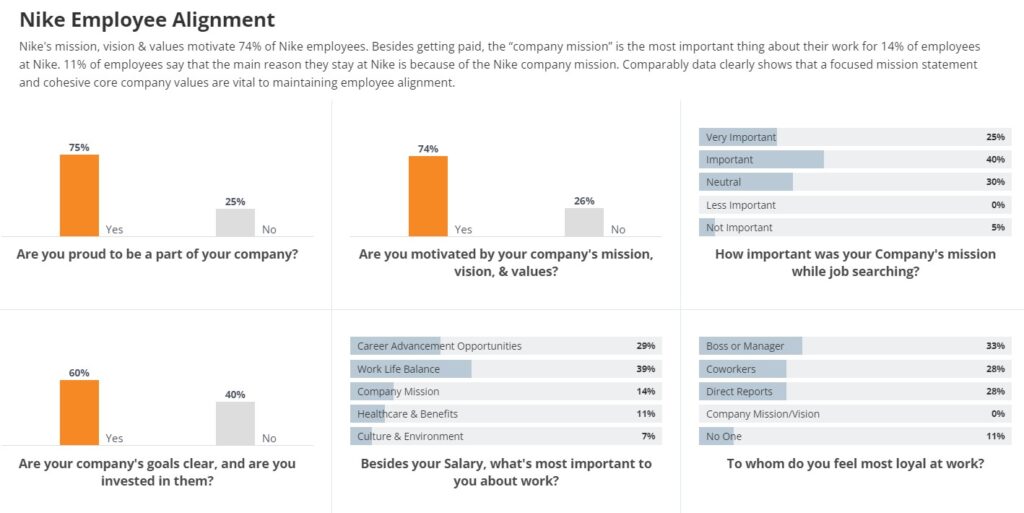 "To empower every person and every organization on the planet to achieve more."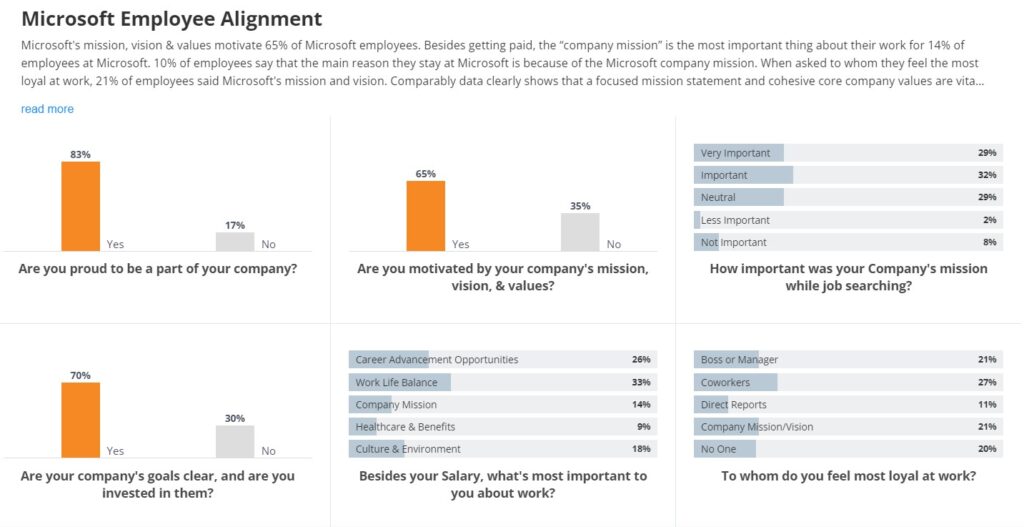 "To design and develop the best personal computers in the world and make them accessible to the widest range of people as possible."
From these examples, we can see that having a clear and concise vision statement can inspire and drive employee engagement and connectedness to what a company is trying to achieve to as high as 74%. All founders and leaders should look to having a clear and inspirational vision as one of the key ingredients of success.
How to cultivate a positive team culture:
1. Lead by example
Managers are a the role models for the teams. In leading by example and living the values of the culture, you set the tone for the rest of the team by giving them a template of what is acceptable and what is unacceptable behavior, rhythms, and norms.
2. Communicate openly and honestly
Open communication is essential for creating a positive culture. By being transparent and honest, you can build trust and respect among the team.
3. Promote teamwork
A positive culture promotes teamwork and collaboration. Encourage your team members to share their ideas and feedback, and reward those who contribute to the team's success.
4. Use culture management frameworks like the 5 C's
The is no need for reinventing the wheel. Tried and tested frameworks can help save on time when working on new projects for the first time. A framework like the 5 C's: Clarity, Caring, Consistency, Congruence and Commitment can help managers create a positive and supportive culture that aligns with the goals of the organization.
5. Gather feedback regularly
Feedback is tool that humans use to supercharge personal improvement. Use tools like regular team meetings, employee surveys, and pulse polls to gather feedback and insights on the team's vision and culture. This feedback can then be used to make adjustments and improvements to the team's vision and culture.
Examples of companies that get praise for cultivating great team culture:
Google:
Google is known for its innovative and fun culture, with perks such as free gourmet food, on-site gyms, and employee-organized clubs and activities. Google encourages creativity and innovation through its 20% time policy, which allows employees to spend 20% of their work time on projects of their own interest.
Hubspot:
Hubspot is a company that is focused on inbound marketing, sales and service strategies. The company culture is built around transparency and autonomy, with a strong focus on teamwork and employee empowerment. Hubspot also offers an extensive benefits package, including unlimited vacation time, professional development opportunities, and a flexible work schedule.
Airbnb:
Airbnb's culture is built around the idea of "belonging anywhere," and the company values include being a "host" to everyone and fostering a sense of community. The company also encourages employees to travel, and the company culture is built around the idea of "live there, not just stay there."
These are just a few examples of companies that are known for having great team culture. They are known for their commitment to employee satisfaction, empowerment, and engagement, and they foster a positive and supportive work environment.
Fixing a broken organizational culture:
Fixing a broken organizational culture can be a challenging task but it is possible with the right approach. Here are a few tips on how to fix a broken organizational culture:
1. Assess the current culture
The first step in fixing a broken culture is to understand the root causes of the problem. This can be done through employee surveys, focus groups, or interviews. Once you have a clear understanding of the issues, you can begin to develop a plan to address them.
2. Communicate the plan
Once you have a plan in place, it is important to communicate it clearly to all employees. This includes explaining the reasons for the changes, how the changes will be implemented, and how they will benefit the organization and its employees.
3. Lead by example
Energy and attitude is contagious and as as a manager, you are the tip of the spear. Exhibiting the values you want the team to emulate goes a long way in building the right team culture. In doing so, you set the right tone for the rest of the team. Values are not what we say we are but rather how that shows up in how we conduct ourselves and do what we do. Model the culture you want for your team!
4. Encourage employee participation
When employees are encouraged to share their ideas and give feedback, they will have more ownership over the values and culture that you are trying to implement. Employee participation serves to ensure that the new culture is embraced and supported by all who are working towards your vision.
5. Hold everyone accountable
For the culture and values you have modelled to stick, you need the entire team to take ownership over them, this includes your managers and employees alike. Having a different set of rules only serves to create friction in the work place.

One way of ensuring that there is unified accountability to the shared values and culture across the organization is by doing proper onboarding during hiring, having everyone sign the employee handbook, and integrating it into their performance management pack where you track progress to goals as part of their employee appraisal, feedback, and reward structure.
How to measure progress towards a vision and team culture:
Measuring progress towards a vision and culture can be done through a variety of methods, including:
1. Identifying Key Performance Indicators (KPIs) aligned to vision and culture
Setting specific, measurable, and actionable KPIs can help to track progress towards the team's vision. For example, if the vision is to increase sales by a certain percentage, you can track progress by monitoring the team's sales figures and comparing them to the set targets.
2. Surveying your employees on a regular basis
Regularly surveying employees can provide insight into how well the team is aligned with the vision and culture. Questions can be asked about how well the team understands the vision, how motivated they feel, and how well they feel the culture supports the vision.
3. Conducting regular pulse polls to promote a positive feedback-culture
Regular pulse polls can be used to gauge employee engagement and satisfaction with the culture. This can be done through a survey that employees complete regularly, such as once a month, to track employee engagement over time.
4. Running focus groups to get deeper insights on highlights from your surveys & polls
Focus groups can be used to gather feedback and insights on the team's vision and culture. This can be done by bringing together a small group of employees to discuss their perceptions of the vision and culture, and gather feedback on what could be improved.
5. Getting good at observation:
Observing your team interactions and communication can yield useful insights on common themes that can tell you whether you're trending in the right direction.
Story Time: Shaka Zulu – The Visionary Leader who united a Nation and Built a Culture of Military Excellence
Now that you know all about setting inspirational visions and cultivating great company culture, let's have a look at Shaka Zulu, the famous 19th-century leader of the Zulu Kingdom in South Africa who was known for his innovative military tactics and his ability to unite and lead the various tribes of the Zulu people. He is an example of how vision setting and culture cultivation can be used to achieve ambitious goals.
How Shaka Zulu achieved vision success
Shaka Zulu's vision was to create a powerful and united Zulu nation. He set this vision by implementing a number of military, political and social reforms. For example, he introduced a new system of military training and organization, which allowed his soldiers to be more mobile and better equipped for battle. He also introduced new weapons like the short spear, which gave his soldiers an advantage over their enemies.
How Shaka thought about culture
In terms of culture cultivation, Shaka Zulu was able to unite the various sub-tribes of the Zulu people by creating a shared sense of identity and purpose. He did this by promoting a strong sense of pride in being Zulu, and by emphasizing the importance of loyalty and obedience to the king. He also created a culture of military excellence, by rewarding soldiers who performed well in battle and by promoting those who demonstrated courage and skill.
Shaka Zulu's vision and culture cultivation strategies helped to create a powerful and united Zulu nation. Under his leadership, the Zulu people were able to defeat their enemies and expand their territory.
You can watch all about the exploits of Shaka below:
TLDR?
Vision setting and culture management are important skills for team managers. A clear vision provides direction and focus for the team, while a positive culture promotes employee engagement, satisfaction, and retention.
I will be conducting a masterclass on the ABC's of Product, Marketing, and Business Strategy and one of the topics we will be looking at under product is how to practically set great and actionable product vision and objectives – you wouldn't want to miss this one!